"Njoy Chin" Home Page

Contact Njoy Chin hfdfirerescue@yahoo.com





"Hin Satori Dazzling Njoy"



"Dazzle"
*Click to meet Dazzle
Red Sable
UKC: P943030
AKC: TS45811301
CKC: TC-20100000834
DOB: October 21, 2019
Weight: 6.1 lbs
VetGen Lab Results - LL carrying two copies of the long coat length gene



Rare sable and white female, with, "the kiss of Buddha" marking
I imported "Dazzle" from Russia to bring in new show lines
and especially new sable lines with more coat.
Dazzle is a smaller package, full of energy and a never exhausting, sense of adventure
always exploring everything around her, eager to try new things, so fearless.

Dazzle showed at her first dog show after arriving into Canada, 5 days prior.
Despite Dazzle never being on a leash, or at a show before, and NOT wanting to walk
Dazzle still won Best Puppy in Breed and really impressed the Chin Breeder Judge
Unfortunatly COVID shut the world down in 2020, so we have to wait to show again





May 24, 2020




May 24, 2020




May 24, 2020





May 24, 2020
7 months old still a baby




Dazzle snuggling








WILDWOOD KENNEL CLUB
Tavistock, ON
Friday October 9, 2020
0-2-1-1
Judge Michael Gelinas
Dazzle wins Best Female - 1 point

Saturday, October 10, 2020
1-2-1-1
Judge Sandy Gelinas
Dazzle wins Best Puppy

Sunday, October 11, 2020
1-2-1-1
Judge Jo Ann Pavey
Dazzle wins Winner's Female - 1 point

Monday, October 12, 2020
Judge Sandra Lex
Dazzle earns Winner's Female
Dazzle now has 4 Points







October 7, 2020



October 7, 2020





September 23, 2020
Dazzle enjoying our new Coursing toy





Elgin County Kennel Club
Fri, Aug 28, 2020 to Sun, Aug 30, 2020
Dorchester, Ontario
Show #4 Judge Elaine Whitney
Dazzle winners Female - 1 point (her first point towards her CKC Championship)





August 9, 2020
Dazzle first time learning how to Lure Course






July 2, 2020
Dazzle at the Pool




July 2, 2020
Dazzle swimming like a pro !




July 2, 2020
Dazzle, Yuna and Fancy






July 2, 2020
Yuna (in Pink) and Dazzle (in orange) swimming




July 2, 2020




July 2, 2020
Dazzle's first time at the Salt Water Dog pool
She learned to navigate the pool and swim on her own in no time.




May 23, 2020

I was asked to submit video showing the athleticism of our Chin
Took me 45 minutes of them running around, before it occurred to me to
use my tripod and my coursing whip, to get the desired activity level for the Video.
Amazingly enough, today it is hot and VERY humid out, even my Poodles are panting
but also shows how well the Chin breath :)


May 23, 2020




May 22, 2020
"Dazzle" such a cutie





March 29, 2020
Rain day for the Chin



March 28, 2020
Dazzle making herself at home




Babby Dazzle after her first show




March 14, 2020
Breeder Judge Lee-Ann Bateman, Edmonton, AB
Dazzle wins Best Baby Puppy in Breed only 2 weeks home from Russia




March 8, 2020
Dazzle at 20 weeks of age




March 8, 2020
Dazzle at 20 weeks of age




March 8, 2020
Dazzle at 20 weeks of age
Her first week with me from Russia




February 28, 2020
Dazzle with her Breeder saying good bye to Russia



February 22, 2020



Dazzle January 11, 2020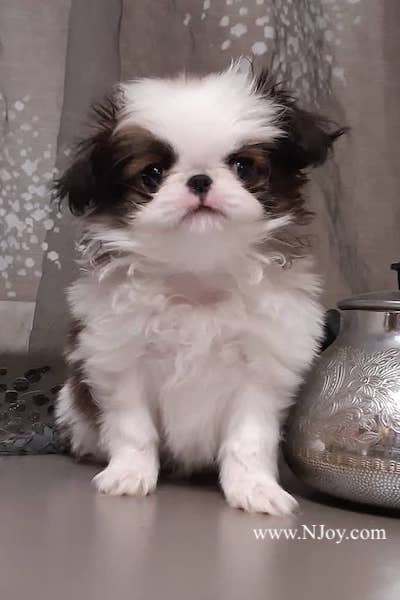 December 14, 2019
Dazzle at her breeder's


Return to NJOy's Home Page